In the last week I've noticed quite a few butterflies in my garden and around the neighborhood. Normally I don't notice butterflies until at least May and certainly not in these numbers but there are so many that they're even talking about it on the news!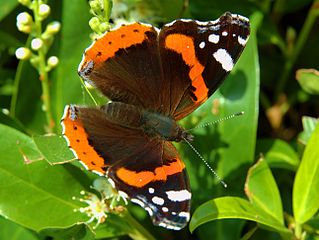 All over Southern and Eastern Ontario butterflies like the Red Admiral and the Monarch are being seen in large numbers.

It's thought that the warmer than normal temperatures in the Northern US combined with the high winds that we've experienced in the last week or so has contributed to the early mass migration.
As I said in my last post it was a warm winter and an early spring so there's quite a bit of growth already, but I hope there's enough food for the butterflies to eat considering they're here so early.
Have you noticed butterflies in your area earlier than normal as well too? Isn't it a little strange?
Share and Enjoy